MR CABINET LIGHTS AND MORE
Our new web site is growing with new content and pages of lighting ideas for the home. Check back often to see how your home can benefit from good lighting ideas!
It's What We Do That Makes a Difference
Lighting Kitchen & Bathroom Cabinets And So Much More!
At Mr. Cabinet Lights and More we do Specialize in Low-Volt Lighting systems for Kitchen Cabinets "It's our specialty" Every Kitchen needs good lighting to illuminate their counter tops! But we do so much more like, Walk-Pantries, Pull Out Kitchen Shelving & Bookcases, Bathroom Vanities, Kitchen Islands, Light Therapy Showers, Senior Safety Lighting and the list keeps growing!
We Offer Complete Lighting Design Services & Consultation
From new construction to a remodeling project, our Low-Volt LED Lighting systems are cost effective, provide superior lighting and color and last years and years. Let one of our lighting consultants show you how to "Decorate with Light and Make a Difference" in your Home!    
Thank you Mr. Cabinet Lights for adding just the touch to our newly remodeled kitchen. The under cabinet lighting not only added the much needed light but brought out the color in the new backsplash. Highly recommend this company!
What a great idea Gary had with adding light around these custom bathroom mirrors. Plus, we use them as night lights! Great idea Thanks
From the time we decided to remodel we knew we needed cabinet lighting. So glad we chose Mr. Cabinet Lights and More. The quality of the lighting and the installation was way above par.
After we hired Mr. Cabinet Lights to light under our newly remodeled cabinets we decided to see what they could for our old ceiling with a fan. It was simple, remove the fan, box in the ceiling box and add new LED lighting. It worked and looks great. Well done
Lighting Project Ideas of the Month
Lighting Ideas for the Home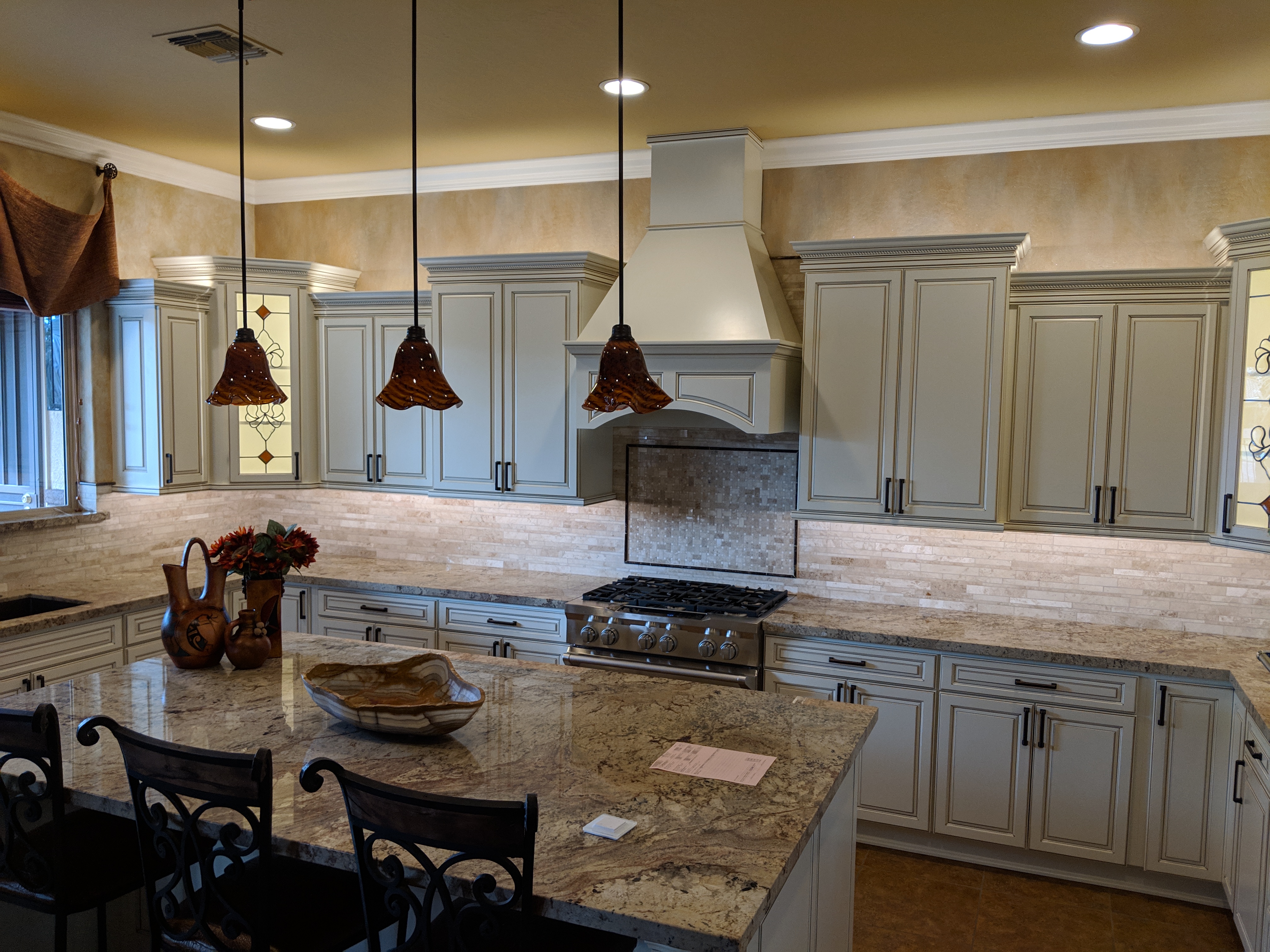 All kitchen cabinets need lighting. It's a simple fact…. Mr. Cabinet Light brand of under the cabinets lighting provides the light you need to see better when preparing meals and cooking. Plus, the corner cabs with glass doors finishes off a great design for this home owner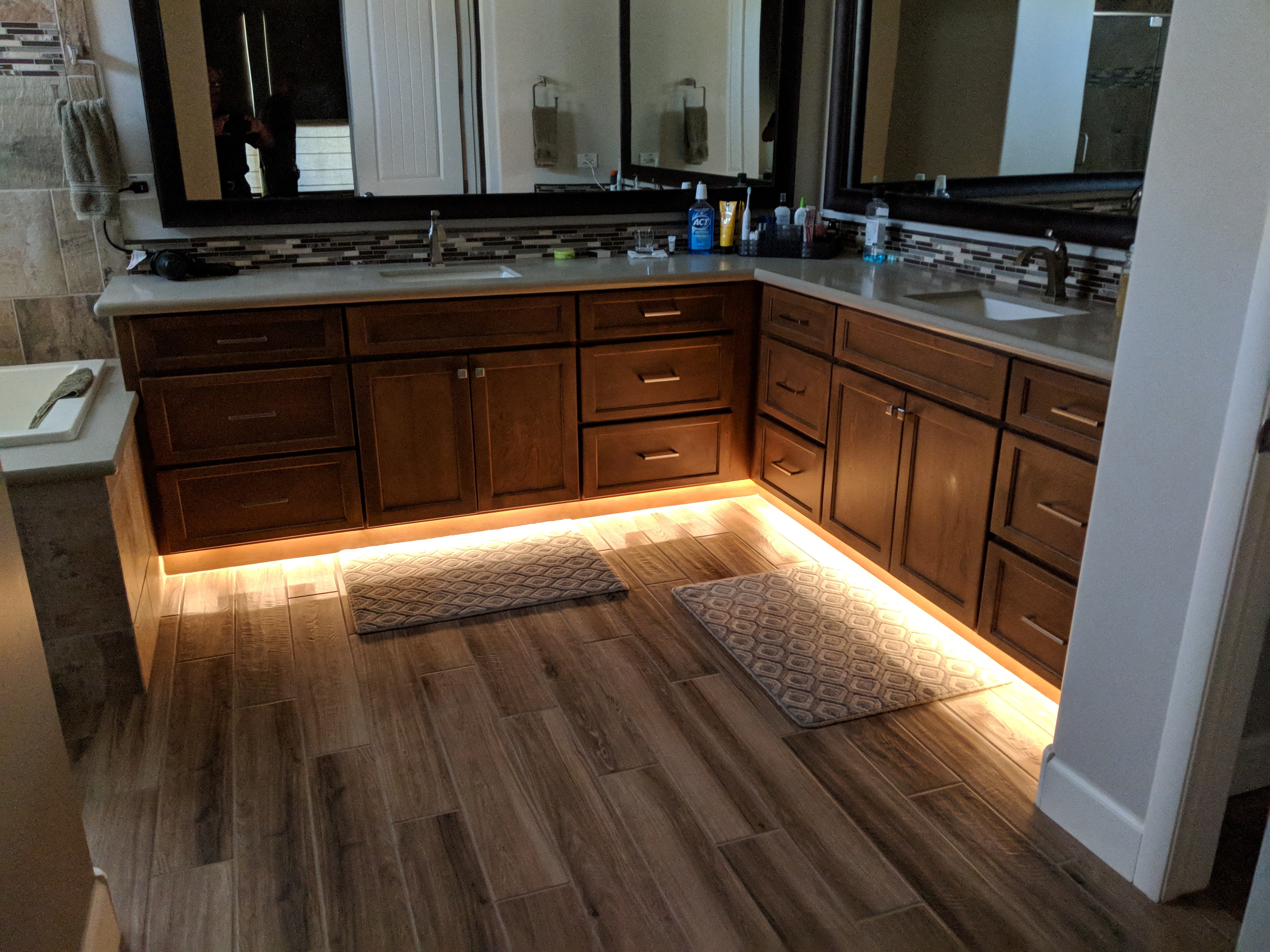 A simple idea that provides safety and a great look. Automatically turns on when you walk into the bathroom at night without having to turn on bright blinding ceiling lights. A simple idea that makes a big difference at night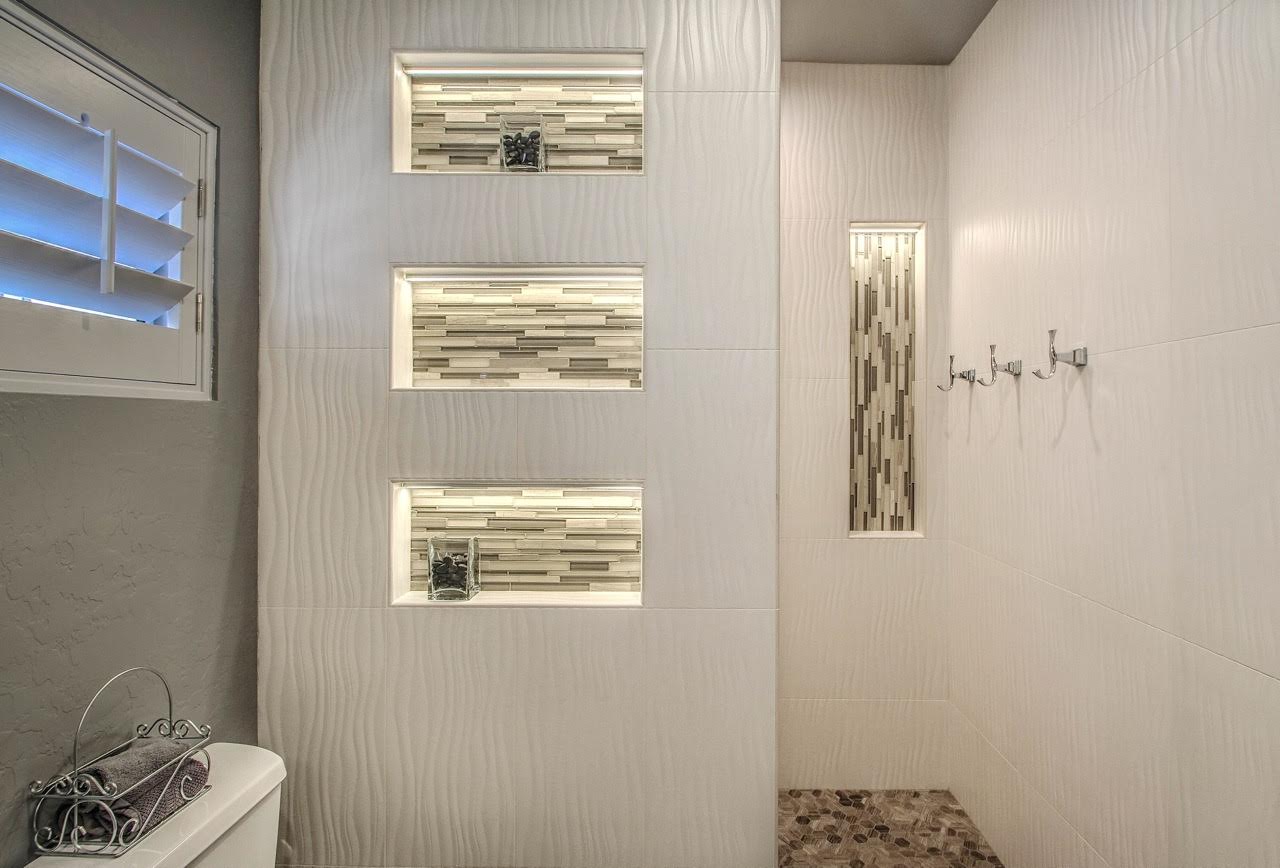 To create a nice effect to a remodeled bathroom this home owner let us design lighted tiled niches to accent the walls and inside the shower . A great effect that showcases the tile and adds light to the shower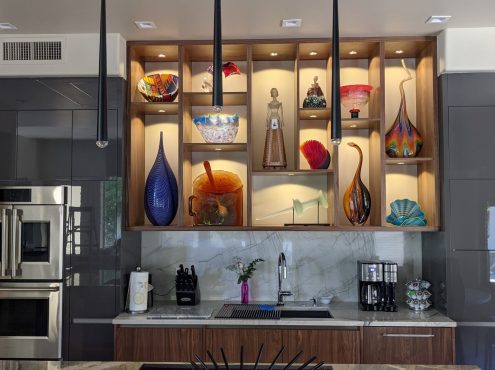 A challenging project where the cabinet was above the sink creating a unique method of displaying museum quality glass art for this discerning customer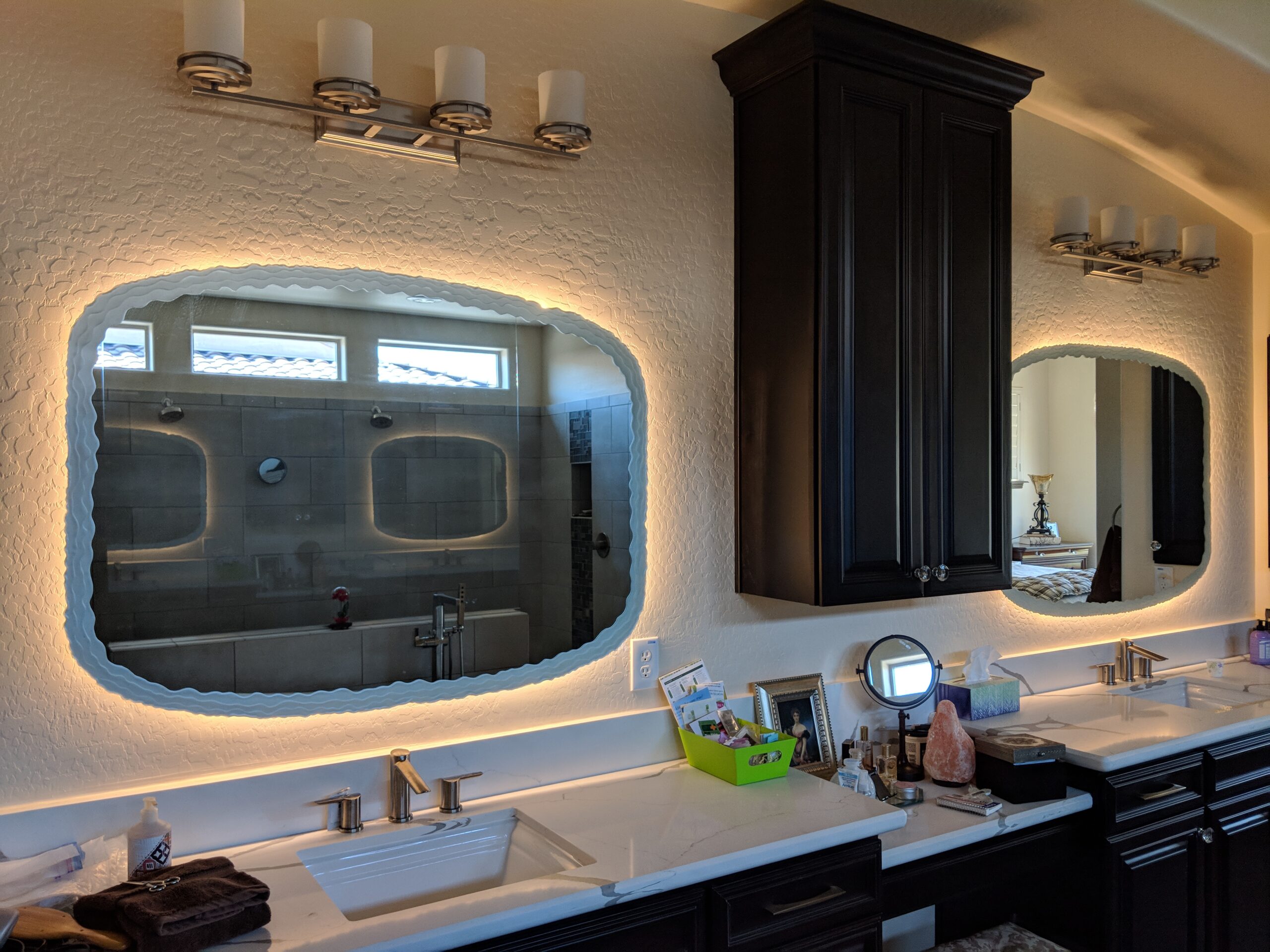 A simple idea for any bathroom. Back-lit mirrors create a stunning effect for any mirror. Makes for a great night light for the bathroom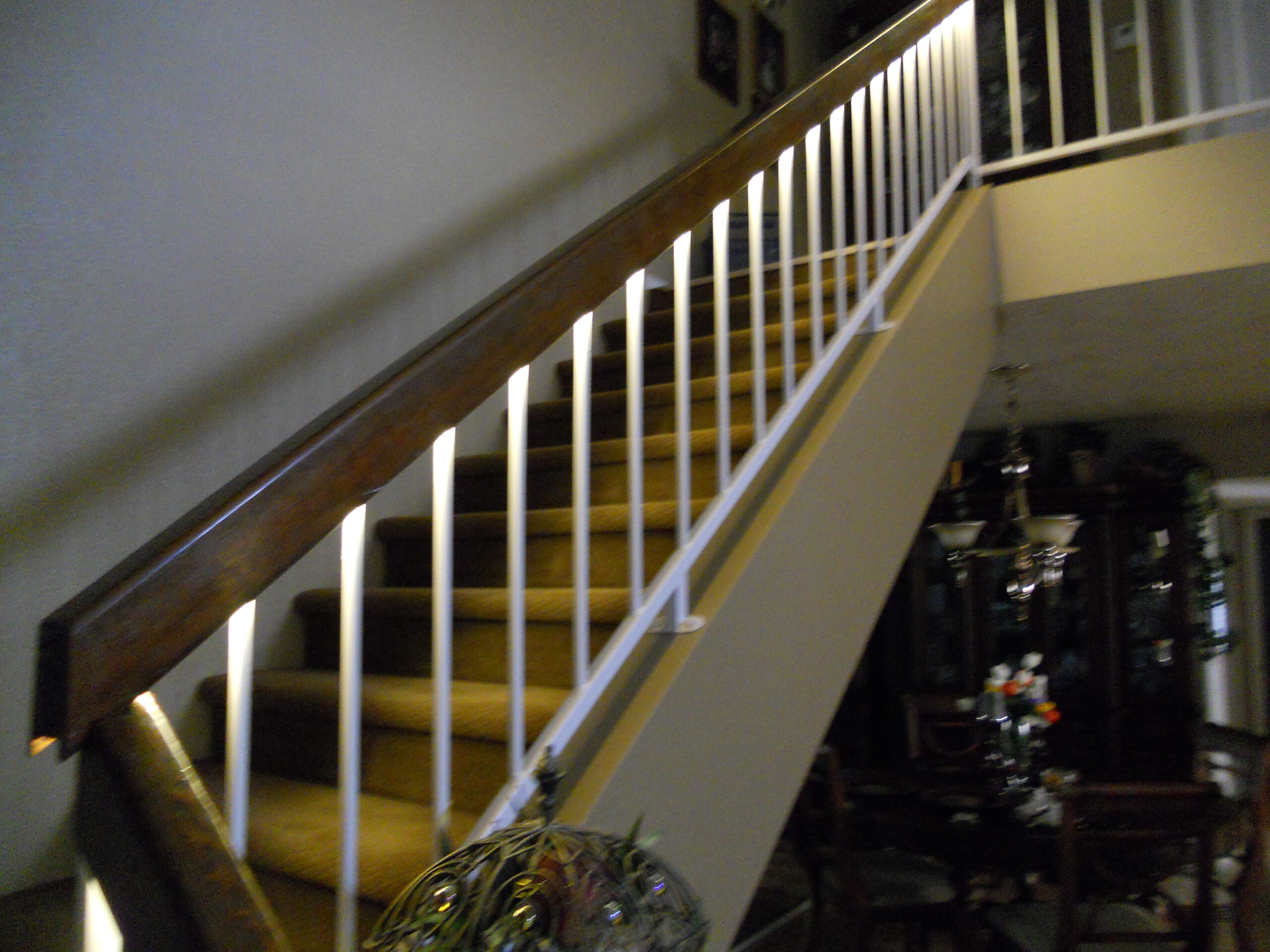 Here's an idea that makes a statement to any staircase. Lighting under the handrail added an art element to the staircase. 
For More Great Ideas go to......